Wire and wireless target systems

Apart from target retrieval systems we also offer a variety of target devices in different configurations according to the target purpose, type of a training and shooting range limitations and many other needs.
---
USS system for situational shooting training

USS system is designed for situational shooting at firing range with short and long firearms and can be used for sport, law enforcement and military shooting. System configuration depends on customer needs and can consist of many targets with different functionality. Among the others we offer target devices with functionality: pop-up, rotating, pop-up with rotation, horizontal or vertical eject, horizontal or vertical swing.
USS is a modern computer-controlled system, with a friendly software facilitating the operation of the devices and enabling creating simple courses as well as complex tactical training scenarios. System can be easily expanded with other target devices in the future.
The software used to control the USS system can also be used to control other systems installed on a shooting range: Target retrieval systems, lighting, ventilation, access control, etc.
All our USS system target devices are battery-powered with wireless (or wired) communication enabling free arrangement at the shooting range allowing user to create advanced complex training scenarios. Device can be equipped with hit detectors with digital indication in control software. There are several target holders available depending on the type of material from which target is made of. Hit detection can be made in two options – hit sensor mounted to wooden or steel target or multi-zone hit detection targets, where hit is registered by short circuit caused by bullet.
---
Turning WP-28 and turning/pop-up WP-35 target devices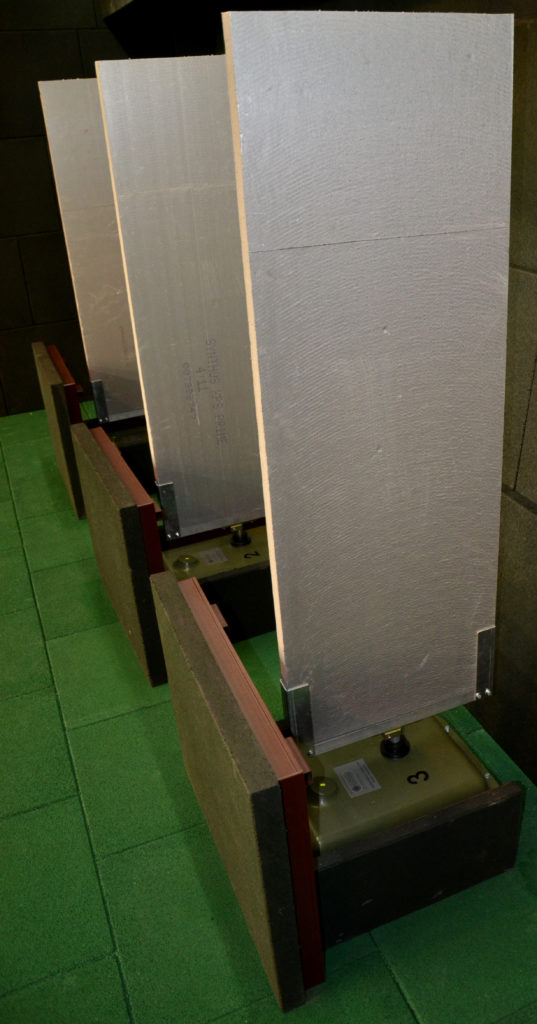 Fully portable battery-powered friend or foe turning target WP-28 and WP-35 devices are specifically design to improvement shooters decision making skills forcing shooter to make instant decision whether or not to shoot.
Using many devices user can design complex training scenario accomplished by programming each device to show friend or foe figure at different time.
Devices can be operated either from remote control, PC computer or tablet device. WP-28 housing is made of fiber-glass and WP-35 housing is made of steel.

Difference between WP-28 and WP-35 is that WP-35 can be easily transformed to a pop-up target by flipping device on a side and attaching special target holder and additional legs.
---
Pop-up turning WP-37 target

Fully portable battery-powered friend or foe turning target WP-37 device with pop-up functionality is specifically design to make even more complex training scenario by adding rise and fall target moves. Each target reacts to commands individually or together depending on selected settings. WP-37 can be used with long and heavy targets.
---
Additionally available target movement
| | | | |
| --- | --- | --- | --- |
| horizontal eject | vertical eject | horizontal swing | rise and fall to side |
| | | | |
---