DEVICE FOR AUTOMATIC TARGET ROTATION designed for pistol shooting UOS-25 WUOS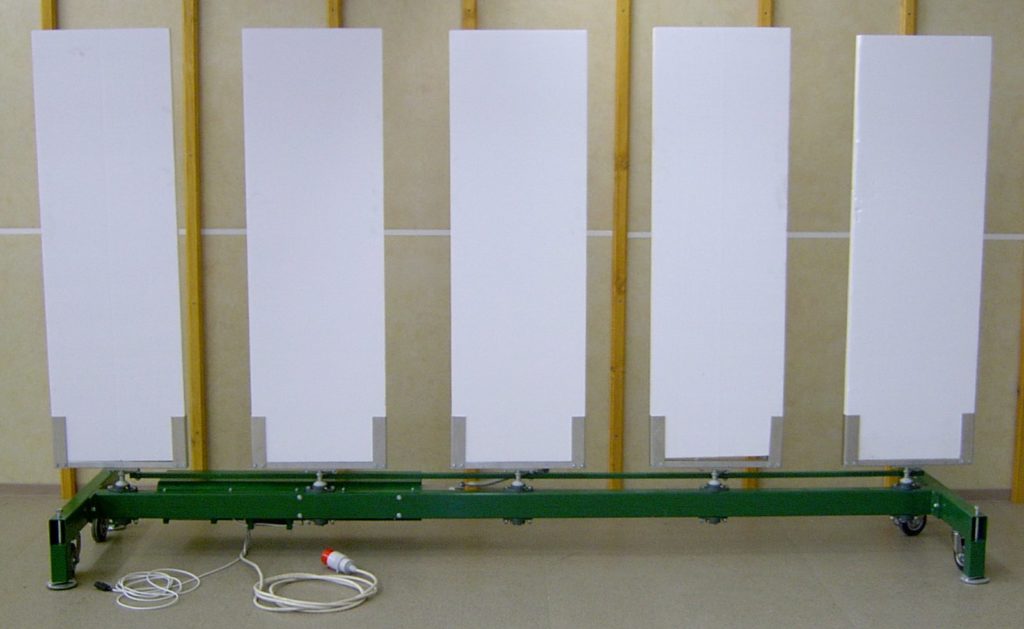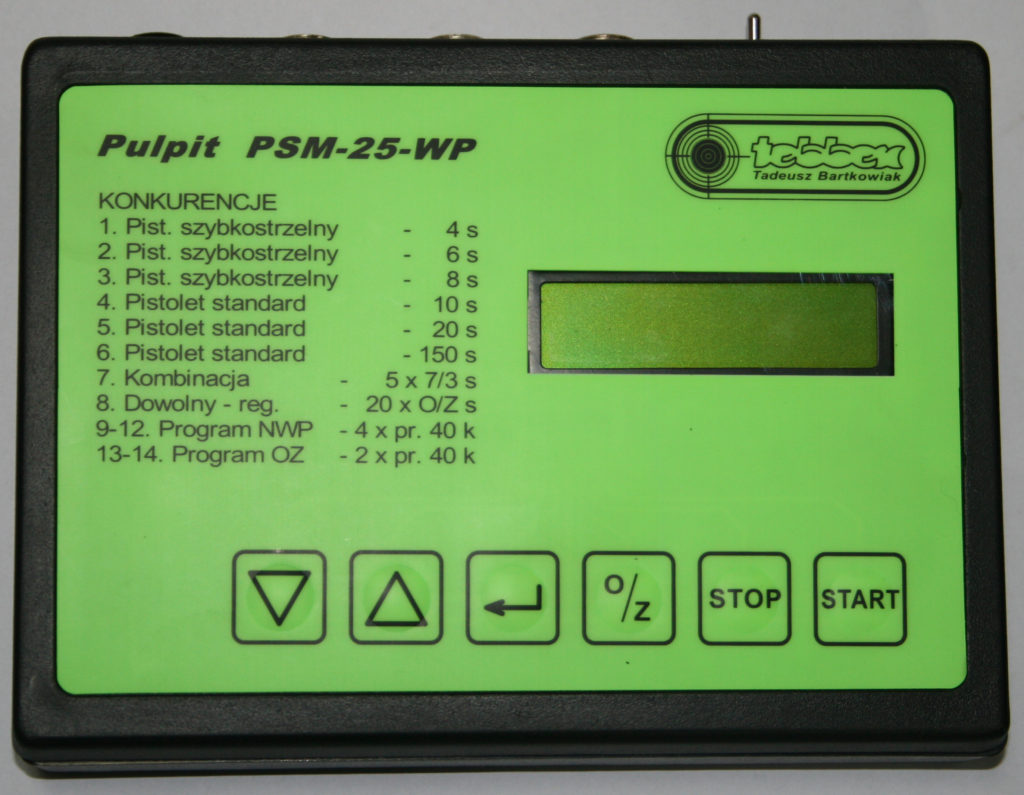 The device type UOS-25, is designed for automatic rotation of targets, designed for shooting with short firearms (pistol) at 25m. Device can be also used for sports shootings in competitions: Rapid pistol, sport pistol and large-caliber pistol and standard pistol. The device can also be used for police and military shootings and training of security staff as well as recreational and defense training.
The device is made in two versions: the police and sports – different machine frame hight. Additionally each version can be made with 0-90 degrees or +/- 90 degrees target rotation.
The device meets the the regulations requirements of ISSF and PZSS, ensures the smooth conduct of the competition and training, secure their course if device is used properly according to instruction manual and safety regulations at the shooting range.
The device in standard version consists of a steel beam with five target frame holders, set on two feet (optionally upper frame can be made foldable). On the lower beam there is drive unit mounted. On the side of the drive unit there is control unit. In the front part of the control unit on the one side there are rubber cable fittings for the power and control cables  routing and on the other side there is fuse socket.
In the sports version next to the socket fuse there are additional sockets for connecting multiple devices using control cable – coupling, allowing simultaneous operation of several units, controlled from a single control panel. Additionally there is possibility to mount red and green light at device – this allow to simulate shooting to electronic targets.
The drive unit and the control unit is protected from the front, top and rear using steel sheet covers.
Targets screens (made from hardened polystyrene – 40 or polyurethane) are mounted in the aluminum frame holders.
The control device is an electronic control panel located at the firing point (lane). You can connect special starting rope to control panel allowing shooter to decide when to start.
Panels are made in three versions:
UOS-25-PSS – standard – art. nr 25500 (microprocessor control),

UOS-25-PSM – S – sport shootings- art. nr 25520 (microprocessor control)

UOS-25-PSM – SP – sport and police shootings includes time control and shooting programming  – art. No. 25510 (microprocessor control)
The control panels are described in detail in the enclosed manual of microprocessor control panels. Panels can also be ordered separately.
Desktop control systems are installed in a insulating housing made of plastic material. On the front panel there are located switches which allows user to change shooting time and control the device UOS-25.
On the back of the control panel there is a fuse socket, socket for device control cable and a socket for a start rope. Panel is powered directly from control unit installed on UOS-25 device (DC 12V or AC 12V, 50Hz).
Each unit is fully assembled and tested and delivered in parts to the customer.
Basic specifications:
device dimensions:
– length -340 cm
– width of the base – 80 cm
– height – Approx. 50 cm
– target height:
a/police version- 176cm
b/ sport version (max) – 100cm
device weight – Approx. 70 kg
power supply:
– main circuits – 3-phase., 380/220V, 50Hz
– control circuits – 220V, 50Hz; 12V, 50Hz;
input power – Approx. 2,1kVA (5,3kVA)
current consumption – 5,2/3,0A (13,9/8,0A)
control – from the electronic panel operated by a judge or a shooter or in automatic mode
Insulation class – I (control panel. II)
Each unit is fully assembled and tested and delivered in parts to the customer.
Additional equipment
The UOS-25 device can be equipped with following elements:
driving wheels – art. nr 25420
targets screens made from hardened polystyrene – 40 – art. nr 25450, 25460
the front steel-wooden cover for device – portable or transportable (on wheels) art. nr 25430 lub 25435
control panels – different version to choose from art. nr 2500, 25510 i nr 25520
wireless remote controlart. nr 25530
rail UOS-25 transporter – art. nr 25600
device lift UOS-25 – art. nr 25700